Getting through membranes
In the Osmosis module, we acted as if water was the only thing that could get through the cell membrane. But that's not actually true -- if it was, our cells would be in big trouble!
It would be closer to the truth to say that water is a small, uncharged molecule, and so it can get through the cell membrane pretty easily. Other larger or charged molecules have a harder time. But they are not completely blocked.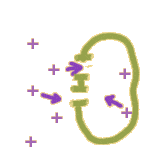 In fact, there are 2 major ways that an ion like Na+ can make it through the membrane:
Through a channel: Membrane channels can open and close like gates. Once a channel is open, ions are free to move in both directions -- but the NET movement of ions will be down a gradient. (More on that later.) So, opening a channel allows ions to move to wherever they have the lowest potential energy.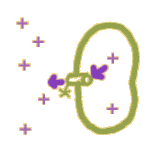 By a pump: Membranes also contain tiny ATP-driven protein pumps. When these pumps operate, the energy stored in ATP is used to move ions in ONE direction -- whichever direction the pump mechanism works. This allows ions to be pushed around AGAINST a gradient.
Copyright University of Maryland, 2007
You may link to this site for educational purposes.
Please do not copy without permission
requests/questions/feedback email: mathbench@umd.edu