A Very Useful Formula
On the last page, every time we multiplied distance by 10, the time to diffuse increased 100-fold!
10 x as far --> 100 x as much time
What's going on here? If time to diffuse were directly proportional to distance, then 10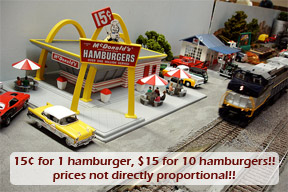 times the distance would require 10 times as long -- not 100. This overinflation is like if you went to McDonald's to buy 10 hamburgers and they charged you 100 times (not 10 times) the price of a single hamburger. Not fair? Well, at least it's not directly proportional variation.
Copyright University of Maryland, 2007
You may link to this site for educational purposes.
Please do not copy without permission
requests/questions/feedback email: mathbench@umd.edu