Counting Dandelions (and other organisms)
Much of biology and ecology is concerned with populations: how many organisms are there? Are there as many as last year? Are there as many in a polluted environment as in a clean environment? What about climate change? Urbanization? Dust storms? Sun spots?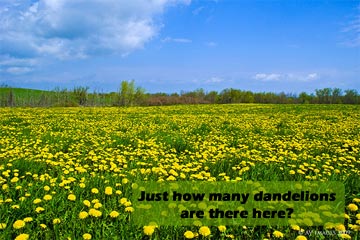 The organisms in question might be elephants or coral polyps or garden weeds, but many populations share a frustrating characteristic: they are difficult to count!
In fact, it's impossible for scientists working with a large population to count every individual organism. Luckily, there is a simple and statistically sound way to estimate the size of a large population – take a random sample.
Copyright University of Maryland, 2007
You may link to this site for educational purposes.
Please do not copy without permission
requests/questions/feedback email: mathbench@umd.edu