An easy Question
Assume both parents are ET/et, and the recombination frequency is 10%, so the chance of a gamete having the eT genotype is 5%.

What is the chance of a child having the eT/eT genotype? (You may or may not want to use the punnett square below).
ET
45%
et
45%
Et
5%
eT
5%
ET
45%
ET/ET
et/ET
Et/ET
eT/ET
et
45%
ET/et
et/et
Et/et
eT/et
Et
5%
ET/Et
et/Et
Et/Et
eT/Et
eT
5%
ET/eT
et/eT
ET/eT
eT/eT
There is only one cell in this table with the genotype eT/eT, and you just calculated this occurs with a probability of 0.0025, or 0.25% of the time.
However, there are other ways for a child to get normal teeth and bug eyes: eT/et or et/eT. Are either of these represented in the punnett square?
So now for a harder question: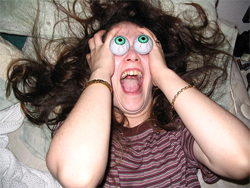 What is the total probability that a child will have normal teeth (TT or Tt) but insect eyes (ee)?
Copyright University of Maryland, 2007
You may link to this site for educational purposes.
Please do not copy without permission
requests/questions/feedback email: mathbench@umd.edu